WELCOME TO CHILDREN FOR BETTER FUTURE
What is Children for Better Future?
Children for Better Future (CBF) is a Cambodian non-governmental organization. We were established in 2003 and became registered with the Ministry of Interior in 2009. (Registration No 2240).
The Happy School is CBF's core program. The Happy School receives funding from Australian based organisation ACE (Act Change Educate), from volunteers and other individual donors. Currently, The Happy School provides disadvantaged children with free primary education and vocational training. In addition, those vulnerable children also have an opportunity to continue into secondary education through our State School program or gain experience of working in the hotel industry. Finally, the Happy School provides rice packages to families as a way of encouraging their children to attend school regularly.
Local Needs
Our local team continuously assesses the needs of the community around the happy school.
Volunteering
We give our time to teach our students English and Computers and we bring our experience to managing the Happy School program.
Educating
Together with a group of qualified teachers and volunteers, we teach the students of Happy School English, IT, Maths, Khmer (official Cambodian language) and life skills.
Fundraising
We seek and gather voluntary financial contributions by engaging individuals, businesses and governmental agencies to support the students of the Happy School.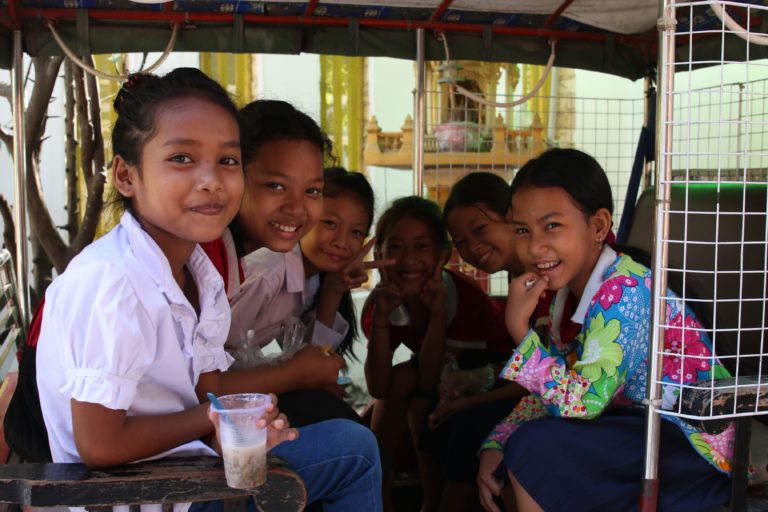 THE CHILDREN FOR BETTER FUTURE supports a child's basic right to education, health and play. Through education and training programs CBF supports Cambodian children to achieve a basic level of education and provides opportunities for children to obtain sustainable livelihoods.
THE CHILDREN FOR BETTER FUTURE understands that all children and teenagers should have access to education, vocational training and live in an adequately safe social environment free from [human] trafficking and labor exploitation.
Every donation is much appreciated and will add a significant value in helping us creating a better future for the students of Happy School.
"Every dollar of your donation will make Cambodian Children Change their life"
Eang Saroeun, CBF School Director.
Do you want to work together or want more information? Contact us with the button below or directly at info@happyschoolcbf.com.