Intensive Scholarship Program
Intensive Scholarship Program
CBF has selected 10 students from the Happy School to each receive long term scholarship support through a partnership with a high quality independent school. This scholarship support will take them through until the completion of Year 12 and help them pathway into either university or vocational training.
This new model of support recognises that truly transformative education, extending through to at least the end of high school has a greater potential to support longer term education and employment outcomes.
To identify these 10 recipients, each Happy School student and their family was ranked against two criteria:
– Highest economic need, indicated by their family income and situation
– Highest potential, indicated by their academic results, motivation and attitude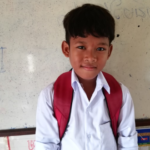 Heang Heat is 12 years old and lives with his mother in a rental room in Phnom Penh. His mother works in a restaurant as a cleaner and as a dish-washer. His father died a long time ago. His mother raised 5 children on her own since then. Heang Heat is the youngest child in his family. He did grade 1 at his home town, but after his brother got married, Heang Heat moved to Phnom Penh to live with his mother.
Heat started in grade 2 at Happy School in 2017 and later on went to grade 3 at the at Vat Sansamkosal Primary School. Currently, he is in grade 4.  Heang Heat is a very clever and patient student. He likes singing, especially traditional songs.
He always goes to the restaurant to help his mother after class.  He really wants to continue his study, but he did not have enough money. He wants to learn English in the evening because his mother wants him to apply for a scholarship when he finishes high school. He wants to become an artist in the future.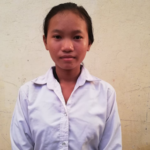 Mang Sonita is 14 years old and lives with her single mother in a rented room.  She has 6 siblings and is the fifth in her family.  Her mother is divorced and works very hard as a scrap collector to support her children. 
Sonita's older brother left school in grade 6 to work and earn money for the family. He really wants his sister to study until university, so he decided to stop studying and find a job to support the family.  Sonita and her brother go to collect junk during the evenings and nights.    On lucky days they find a lot of scraps and they can come home early, but someday they do not find any junk and continue searching past midnight.
Sonita is an over-aged student and is very eager to study.   She studied in grade 1 and 2 in a church school in the suburbs of Phnom Penh.   She then started with Happy School in grade 2 in 2014 with her older brother after her mother moved location for a new job. 
She is a hard-working student and always shows good school results, she studies hard for both Khmer and English.   Happy School integrated Sonita into state school in 2016 for grade 4.    She is now in grade 6 at Vat Sansam Kosal Primary School.
Sonita wants to be a teacher in the future and wants to help young poor children get into higher education.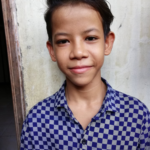 Rom Piseth is 14 years old and lives with his grandparents in Phnom Penh.   Piseth has 4 siblings and is the second in this family.    Unfortunately, his mother died when he was young, his father is a construction worker in Kampong Som province.     Piseth started in grade 1 in his hometown.     Later his grandparents brought him to Phnom Penh as his father could not support his 4 children.
Piseth enrolled at Happy School in grade 2, Happy School has integrated him into the state school in grade 4.   Currently, he is in grade 6 at Vat Sansamkosal primary school.
Piseth is a very good and helpful student in class. He is a quick learner in particular in English and has caught up in all his lessons.    If he does not understand something, he will raise his hand and ask a question.    All of his class teachers really appreciate his attitude, he is polite and friendly to everyone he meets.   
His grandparents have noticed that Piseth has a passion to be an English translator in the future and want him to focus on this.  His grandparents are trying hard to make Piseth's dream come true and is why they need an NGO to support him for his higher education.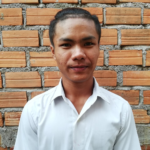 San Sokhoeun is 19 years old.   He lives with his grandmother in Phnom Penh and has 7 siblings and is the oldest brother in his family.  His parents are farmers in Kampong Speu Province.  Sokhoeun could not go to study regularly because he had to look after his younger brothers and sisters.  His grandmother brought him to Phnom Penh where he started studying in grade 1 but then had to dropped out.
Happy school provides special classes for over-aged students. Sokhoeun is an over-aged student and started in grade 2 with Happy School in 2015.   He is a good student and was selected to be the class monitor where he supported other students.   Happy School integrated him into the state school in grade 6 and he is now in grade 8 at Psar Doeun Thkove High School.
His grandmother really wants to support him in at least finishing high school, and ideally support him to attend university.   She shows her sincere gratitude to Happy School in helping her grandchildren study, it was been extremely helpful for her.
Sokhoeuns want to be a policeman when he finishes studying and work for the good of society, he wants to help innocent people.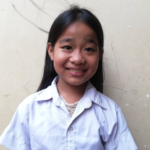 Sen Monysela is 9 years old and lives with her parents in a rental room near the school. Her father is a security guard and her mother cleans apartments. Sela started in kindergarten when she was 5 years old. Her mother then tried to find a school for Sela, so she could take on a fulltime job.
Sela started at Happy School in grade 1 in 2017. Now, she is in grade 3 at Sansam Kosal Primary School. She is a very brave and smart girl in class even when she was still a little girl. The teachers always appreciated her and encouraged her to share her ideas. Sela has enrolled in the state school program in grade 2. Her mother was very thankful for Happy School supporting her child to go to the state school. 
Sela wants to be a primary school teacher. She likes to read books for other kids. In her free time, she likes to draw and exhibit the drawings to her mother.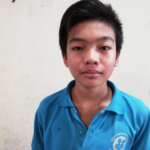 Khorn Reachborey is 14 years old and is studying in grade 6 at Vatsansamkosal Primary School.   He lives with his parents in a rented room not too far from school.   His father is a moto driver but has an irregular income, his mother is a factory worker.
Reachborey started his school in his hometown but he could not finish grade 1.  He then moved to live in Phnom Penh and started grade 1 again at the state school near his home.
His father moved away for his work and Reachborey enrolled with Happy School in 2015 in grade 2. He integrated into grade 4 at state school. He is a quiet student in class and likes to play football. 
Reachborey plans to have his own phone shop with his brother in the future.  He likes to repair phones during his free time. Once he finishes school, he will register for vocational training as a phone repairer and would like to own a small phone shop in the local market.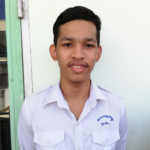 Sok Seyha is 18 years old and is in grade 10 at Psar Doeum Thkov High School.    He lives in a rented house with his parents in Phnom Penh.  His father is a moto driver and his mother is a scrap collector.   Seyha has 3 siblings and is the oldest child in his family.    He helps in doing the housework and looks after the other 2 brothers while his parents go to work.
Before he came to Phnom Penh he lived with his old grandmother in Kampong Cham Province while his parents worked in the city.    Seyha could not attend class regularly because he was required to look after his siblings along with housework with his grandmother.
His parents decided to bring him to Phnom Penh with them so that he could continue his studies. Seyha started to study at Happy School in grade 5 and was integrated into the state school in grade 6.
He is a bright and clever student in class, he is a quick learner.   He quickly caught up in his English classes.  He always spends his time reading books and looking after his younger brother during school holidays.
He wants to be a national footballer in the future.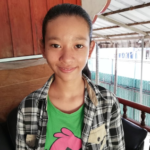 Theng Channea is 15 years old and lives with her single mother in Phnom Penh.    Her mother works in a garment factory and since her divorce looks after her two children alone.  Channea helps to look after her younger brother at home when her mother goes to work.
Channea started Happy School in grade 1 in 2013.  Happy School integrated her into state school in grade 6. Currently, she is in grade 9 at Psar Doeum Thkove High School.
She is a popular girl and has lots of friends.  She really misses the old Happy School and often thinks of all the great times she had there, especially the English she learnt from the volunteers at the school. Channea thanks Happy School for the long-term support she has received, without this help she would be required to leave education and look after her brother at home.
She is a bright clever student and has never repeated a school year.  She still peruses her educational dreams.  Channea likes to read books and draw a picture when she gets free time.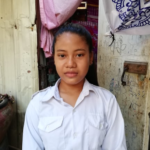 Vanna Oudom Reaksa is 13 years old studies in grade 6 at Sansamkosal Primary School. Her younger brother is in grade 5 at the same school. She lives with her single mother and her brother and little sister in a small shed in the city centre of Phnom Penh. Her mother is a junk collector and has to raise 3 children on her own after she divorced. It is really hard for her to provide for her family. Oudom Reaksa really wanted to go to school like the other children of her age when she was young, but she also needed to look after her younger brother and sister while her mother goes out to collect garbage. Finally, her mother found Happy School. Her mother enrolled both of them at Happy School in grade 1 in 2014. Then Happy School sent her to the state school when she was in grade 4. Her mother still needs to look after her youngest daughter, who doesn't go to school yet, while she has to work too.
Oudom Reaksa studied grade 1 with her younger brother. She was an over-aged child, but she was a very clever girl in class. She tries to study hard and she always focuses on improving her knowledge. She always finishes her homework on time. The teachers trained her to support the slow learners in her class. She behaves well and is very helpful towards the other students and that is why the teacher selected her as the class monitor. Oudom Reaksa wants to be a secretary in the future and when she becomes rich she can support her family. 
Her mother feels very happy to see Reaksa's good grades every month. She also thanks Happy School for supporting her children to study.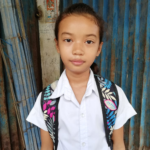 Yin Chansodavy is 10 years old and lives with her parents in a rental room in Phnom Penh. She has 4 siblings, two boys and two girls and she is the youngest. Her mother, Mrs Meas Chandy, was a part-time cleaner at Happy School a couple of years ago. She is still a cleaner and her husband is a security guard. Chansodavy's oldest brother dropped out of school when he was 15, so he could find a job and support his family. He became a security guard just like his father.
Chansodavy started at Happy School in 2018, but she had to stop. Later on, her mother enrolled her again and now she is in grade2 at Sansamkosal Primary School. Her teacher noticed that she was very smart. She learned things a lot quicker than the other students from her class. Chansodavy really wants to have a beauty salon in the future. She is determined to finish high school and then to apply for avocational training to learn the necessary skills. Besides make-up, she also likes to dance and read books in her free time.
''It was really hard to support 4 children to go to school without the support from Happy School'', acknowledges Mrs Meas Chandy. She was very happy that she could send her children to Happy School because it allowed her to work several jobs to support her family.